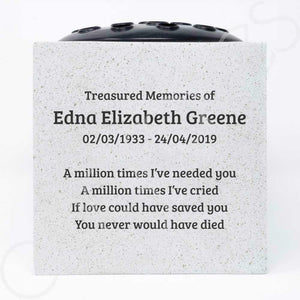 This graveside memorial flower vase is lovingly handmade and engraved in remembrance of a lost loved one.
You can personalise it with a name and birth/passing dates.
The verse on the vase reads;
"A million times I've needed you
A million times I've cried
If love could have saved you
You never would have died"
Please note that we are unable to change the verse on this particular vase option.
The vase will include a removable black plastic inner pot which can be used to hold fresh or artificial flowers. We have a selection of beautiful artificial flower arrangements that will fit perfectly into the vase. All of our flowers are sold separately.
When placing your order please remember to fill out the personalisation details. We may need to send you a proof to confirm before proceeding with your order.
This item is hand-finished so some minor imperfections are to be expected.
Size (approx): 13.7 x 13.7 x 13.7cm
Colour: White with grey speckles
Material: Resin