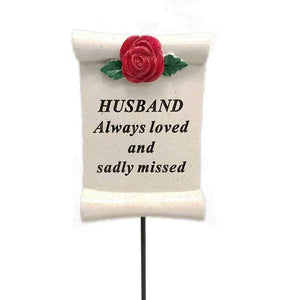 A scroll shaped graveside or garden memorial tribute stick ground plaque with a pretty red rose for a 'Special Husband'
The message on the scroll reads, "Husband Always loved and sadly missed."
The sticks are designed to be placed in memorial flower pots or in the ground around the memorial.
A peaceful and decorative way of remembering someone special.
34cm H (including the stand) The Plaque Measures: 8.5x7cm