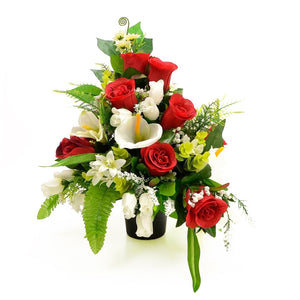 Beautiful handmade arrangement in plain black plastic pot. Designed with a flatter back for placing infront of the memorial headstone.
Consisting of beautiful red roses, and white lilies and calla lilies, this unusual large memorial arrangement is perfect for graveside vases and memorial headstones
Please note these are lightweight and if used free-standing it is advisable to secure the pot down.
Overall Size: 43cm H x 33cm W x 28cm D / Size of pot: Diameter of Base: 8cm / Diameter of Lid 13cm / Height 10cm