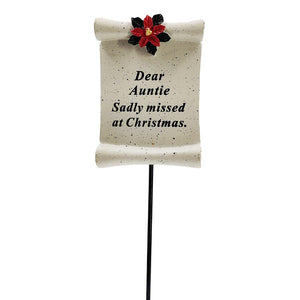 This remembrance stick is an ideal way to honour your departed loved one. Crafted from a durable resin and standing 34cm high on a metal stake (Plaque Measures: 9x6cm), this tribute can be placed in flower arrangements or in the ground as a treasured remembrance during the festive season.
For a 'Dear Aunite'
The compassionate message on the scroll, "Dear Auntie, sadly missed at Christmas," gives comfort and peace in a time of grief.
A peaceful and decorative way of remembering someone special.
34cm H (including the stand) The Plaque Measures: 9x6cm