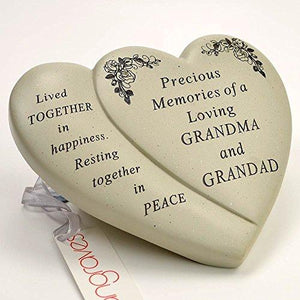 A beautiful memorial ornament plaque in the shape of a double heart, adorned with pretty diamante floral decoration. The ornament reads; 
"Precious Memories of a Loving GRANDMA and GRANDAD". The verse on the left reads, "Lived TOGETHER in happiness. Resting together in PEACE". 
A graveside remembrance memorial with a pretty message for your loved one. A peaceful and decorative way of remembering someone special.
Size: 17.5cm (W) x 13cm (D) x 8cm (H)