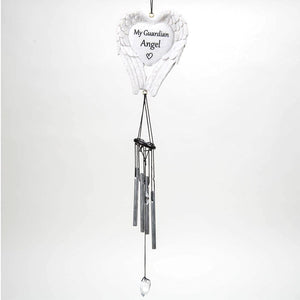 A graveside or garden cemetery memorial wind chime for a 'My Guardian Angel'. 
The message inside the white angel wing plaque reads, "My Guardian Angel" and the wind chime has a pendant hanging at the bottom. 
A stand is NOT included. This is for the windchime only.
A peaceful and decorative way of remembering someone special.
Perfect grave decoration.
The whole unit drops approximately 45cm. The wing plaque measures 9cm x 4cm.