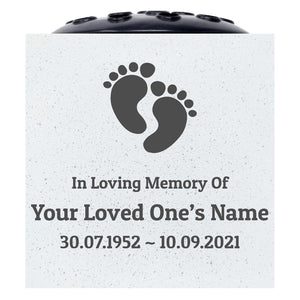 This memorial vase will be lovingly engraved and personalised in remembrance of your loved ones.
We will require the following information from you for this vase.
- The name of your loved one.
- Their birth and/or passing dates. If you only want to show the passing date then that's okay. The best format to use for the date is DD.MM.YYYY
Please note that we can only accommodate the details for one person on this vase.
The design on this vase includes the footprints icon at the top, followed by "In Loving Memory Of", followed by the details of the person provided above.
The vase contains a removable plastic inner black pot to hold fresh or artificial flowers. Be sure to view our handmade artificial flower arrangements that will fit perfectly into the vase (all sold separately).
Size: 140mm each side (approx.)
Material: Resin
Colour: White with darker speckles
Please note that sometimes we may need to send you a proof to approve before we can begin work so please check your emails periodically after placing your order. However if your wording is straightforward then this will not be necessary.
This item is hand finished so some minor imperfections are to be expected.