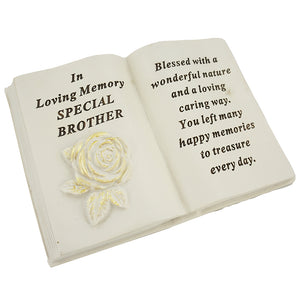 A beautiful memorial book plaque ornament to place by the graveside or in the garden. The grave memorial book is embossed with a pretty rose which has been hand painted brushed with gold, making each book unique. The memorial reads;
"In Loving Memory SPECIAL BROTHER, Blessed with a wonderful nature and a loving caring way. You left many happy memories to treasure every day."
A peaceful and decorative ornament for the cemetery. 
Measures: 19cm x 13cm