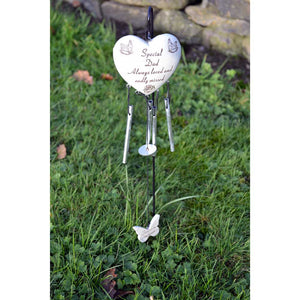 A graveside or garden cemetery memorial wind chime for a 'Special Dad'.
The message on the heart reads, "Special Dad. Always loved and sadly missed" and words on the circle reads, "Forever in my heart". The heart includes images of butterflies and a rose.
The stand is included.
A peaceful and decorative way of remembering someone special.
Perfect grave decoration.
The whole unit drops approximately 30cm. The heart is 8.5cm wide at the widest point.