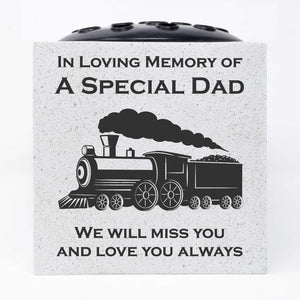 A memorial vase to hold flowers in remembrance of a lost loved one.

Each vase will adorn the following pretty verse; In Loving Memory of A Special Dad We Will Miss You And Love You Always (please note we are unable to change this verse on this particular vase option).

The vase contains a removable plastic inner black vase to hold fresh or artificial flowers.

Be sure to view our handmade artificial flower arrangements that will fit perfectly into the vase. All our flowers are sold separately.
This item is hand finished so some minor imperfections are to be expected. Ideal as a temporary marker for a loved one.
Size 14cm x 14cm x 14cm