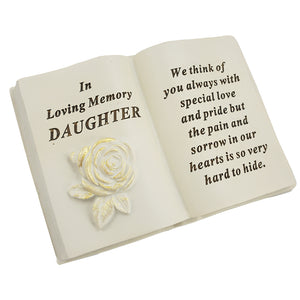 A beautiful memorial book plaque ornament to place by the graveside or in the garden. The grave memorial book is embossed with a pretty rose which has been hand painted brushed with gold, making each book unique. The memorial reads;
"In Loving Memory DAUGHTER, We think of you always with special love and pride but the pain and sorrow in our hearts is so very hard to hide."
A peaceful and decorative ornament for the cemetery. 
Measures: 19cm x 13cm