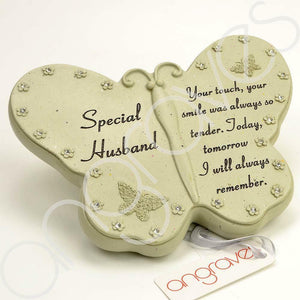 A beautiful memorial ornament plaque in the shape of a butterfly, adorned with pretty diamante flowers and floral butterflies. The ornament reads; 
"Special Husband, Your touch, your smile was always so tender. Today, tomorrow I will always remember."
A graveside remembrance memorial with a pretty message for your loved one. A peaceful and decorative way of remembering someone special.
Size: 20cm x 19cm