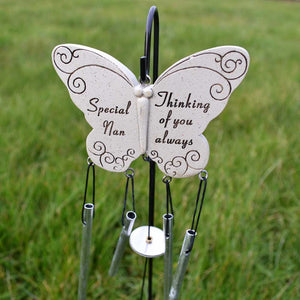 A cemetery graveside or garden memorial wind chime for a 'Special Nan'.
The message on the butterfly reads, "Special Nan. Thinking of you always" and words on the circle, "Sadly Missed".
The stand is included.
A peaceful and decorative way of remembering someone special.
Perfect ornament windchime for decorating the grave.
The whole unit drops approximately 30cm. The Butterfly is 7cm wide at the widest point.