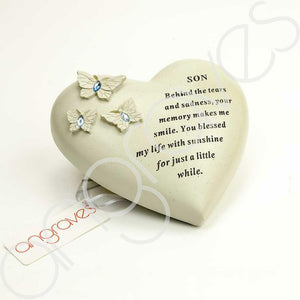 A beautiful memorial heart ornament plaque adorned with pretty butterflies with blue gemstones. To place by the graveside or at home in the garden. The heart reads; 
"SON, Behind the tears and sadness, your memory makes me smile. You blessed my life with sunshine for just a little while."
A graveside remembrance memorial with a pretty message for your loved one. A peaceful and decorative way of remembering someone special.
Size: 15.5cm x 14cm x 7cm